11-17-1991 - 6-11-2005
…when love becomes a caress everything in the life is animated by a special light, it hops all around wrapping you by a thick fur, warming your heart letting loose the child part that all of us got in our own soul, then doesn't matter if tears fill so much the eyes, love spread over, so sweet is diffusing all around leaving his sign and then flying in the air again, again and again, teaching to us little humans that nothing we've got dissolve away, that shared love becomes strength learning us to give again, because nothing is most lovely than ease of loving…
…To Sheena with all the love I can….
Monia
Alijaska The Northern Stars
"Sheena"
(Ch. Arlington's Firekrakr x Stelle A Nord Ascot Aissa)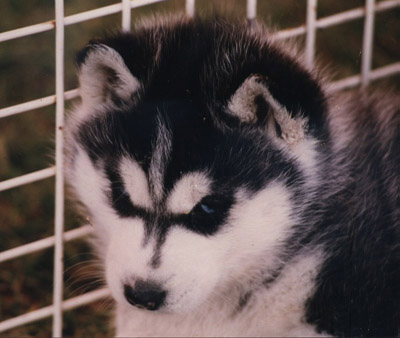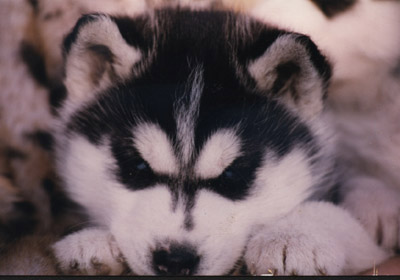 December 2004
Her full name is "Alijaska The Northern Stars", even if for us she's just "Sheena" and no more.
She's my first siberian husky, and I've decided to dedicate a section apart to her because, despite the vicissitudes that signed part of of my life, after 13 years, she's still with me. I owe it to her, because I kept her away for a year, because I still haven't kept all the promises done some time ago…
When she's arrived in my arms I was only 19, and was like fulfil a dream big as the world; my pooch Dunca apart, she's the only dog that has spent so many years at my side, she has seen me growing up, blossoming, making mistakes and conquests,and I've shared all my youth with her (now on the wane, seeing that I'm at the threshold of my 33 years!!!). It was a long time that I was craving for a siberian, I wish it strongly, more than anything else, so in love for the breed and everything is about siberians as I am, she's arrived as gift from God, despite my financial problems, for all the fights and sacrifices I did to have her and to enter in a new and exciting world for me: the pure breed dogs world. For this, I must say thanks to Marina Ghillani, my friend and my great help, she allowed to bring her home by a co-owning deal, leaving on me the only veterinary and breeding charges.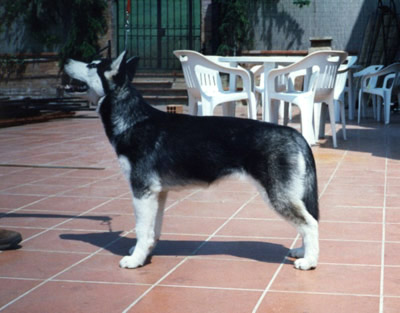 Sheena a 5 mesi e mezzo
My little Sheena was 4 months old when crossed our home's threshold, one blue and one blue-brown eye that enchanted all my family. Siberian husky par excellence, in her character she is ever been a worthy representative of the breed: she burrowed (…) cheese crusts in the livingroom corners, She ran off every fence I built around even if It seemed impossible, she did walks some days long etc… I've paid whole razed poultry houses for her…only for her, several killed chickens, a sheep and a dozen of rabbits once, things to make the hair rise. However she always came back at my call; It was so wonderful set her free over the hill where we had our restaurant, I went with her up along the country trails, later stopping myself to some stream and I left her go, She got down her head straight with her dorsal and her tail starting to trot getting her steps longer, her ears became moved back and forth trying to hear every sound from the environment and then she became a smaller and smaller black point far in the fields. Then, when I couldn't see her more, patiently I made for home and when I was close to the restaurant I started calling her raising with loud voice: "Sheeeenaaaa, coooome!!!!"… My voice did echo on the hills around, I gazed the wheatfield on the front hill and I went on with my calling till I could see a little stain as far as the eye can see moving among the ears of wheat at the horizon, dashing down in an unbridled run cossing the fields arriving to me. She always obeyed at my call, chickens allowing, and this is the stuff in our link that made me more and more proud.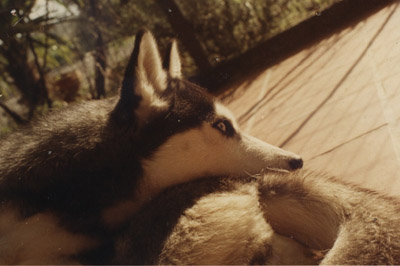 Only to her I teached the sledding commands…even if the sled was just my bicycle, some commands was a little customized, but it is our language and we understand so well each other. Now Sheena is getting deaf and her eyes got the typical oldness shadow, but I'm sure that if I'd put the harness on her now She'd move again her ears back and forth to hear my commands as some time ago. How many stories lived together, so many that I'd have to tell all that stories I'll need one more web site; but I want to contain me saying that she ever was a bitch that got all my esteem, beloved without no doubts, but a strong and nice mate overall, with a distinct character, able to get everytime out of any trouble by herself, poor of sappy attitudes. I define her as a "spartan with the backbone".
Three years ago I had to operate her for a piometra, the vet said me that there was no hope for her, but the day after she was already on her feet just like nothing was happened, while the weepy Madera dragged out for a week just for a caesarean….And that time when Mijanou thought to mash her up just for a bone happened a big rough and tumble and I got scared to die tinking she was killing her, but at the end the only one that lost out was the dobermann that got 5 stitch on her nose. All that just par example…
When, some years ago, I had to put for a while Sheena and her daughter Madera in to the hands of Marina, she didn't understand it, she lived it as a forsake.Unfortunatly I was in a difficult time, I had to change home, and I had no place where to keep them, so I asked Marina a little help that she gave me with pleasure. I took Sheena and Made one years ago when I found a new home with a yard, but she wasn't not the same, She avoided my kisses and my hugs. She kept to be down on me for 5 years more because I'd have never done that to her, we was too linked, we was too much a team…. A big home with yard first and a smaller one with a large terrace, since that time I never left her again, 8 years are passed and I always promised her a new life, a wide yard to run, some time more to spend with her. She slowly trusted in me again, who knows how many dreams in her mind, I know her, she is so, she live her life waiting that I bring her in a beautiful place or that I give her a treat, waiting that I keep my promises gave when holding her in my arms I asked her to forgive me and to wait the moment when everything could be real. But life is never as we plan, we fight everyday trying to do always the possible but then come out other priority, everyday new and different, my job that absorb more and more time, the final house and the new life aren't arrived, only a one year and half illusion in a wide kennel in a nice yard, where from the kitchen door I could talk right to my dogs, just an illusion for me too…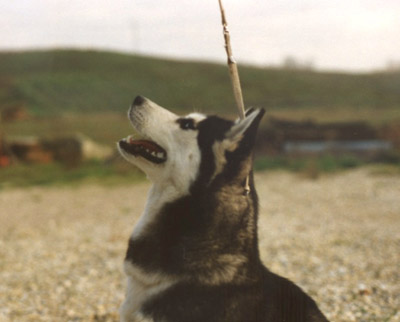 I see her walking slowly with her coat so whitened, I think of how much love had for her David too, maybe because she wasn't obtrusive or noisy as Madera. She never talk, she stay at her place, but when you look her and You'd like to have her close she immediately understand you. Now she has forgave me, I see that her days are going over, she looks for my caresses and when I push her she put her head between my legs, She still remember the "give me five" game where I ask her to give me her right leg and she gives me the left one then I say No!, pointing the right one, so she leans on my hand and she kisses me on my face, so I hold her paw and with tears dropping from my eyes I ask her to hold on for a little more time till I'll buy the allotment behind the new house that we have newly bought. She gives me one more kiss and moves away from me, I know she'll do it, she'll holds on till the limit because she knows that I love her and that I need it…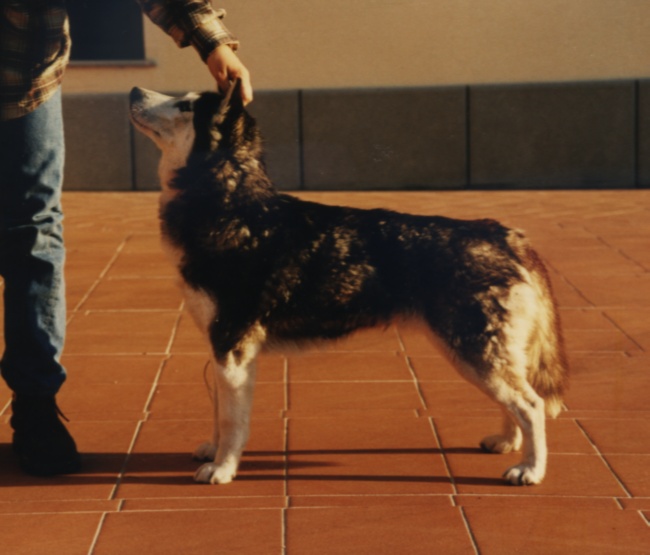 © 2008 Torquemadasiberians.com. All Rights Reserved