ITALIAN CHAMPION
INTERNATIONAL CHAMPION
YOUNG ITALIAN CHAMPION
YOUNG EUROPEAN CHAMPION Bratislava 2003
REPRODUCER CHAMPION
Torquemada's The Oslo's Shade In The Falling Stars
"Oslo"
Born on November 11, 2002
Free Eyes SOVI Hips HD-A Celemasche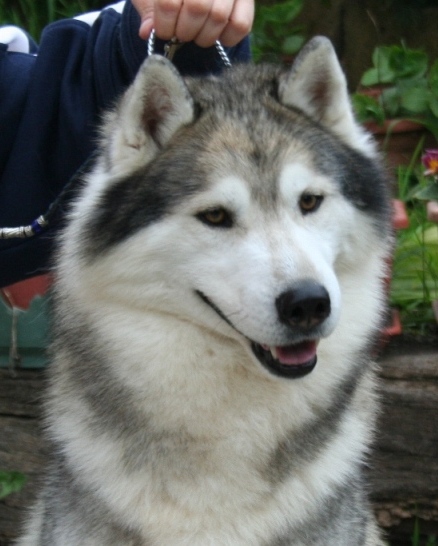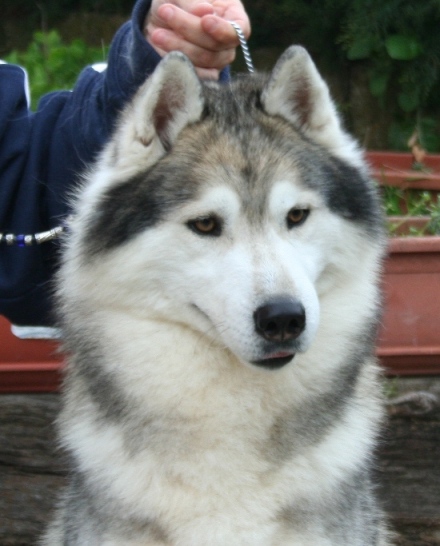 Oslo at 7,5 years old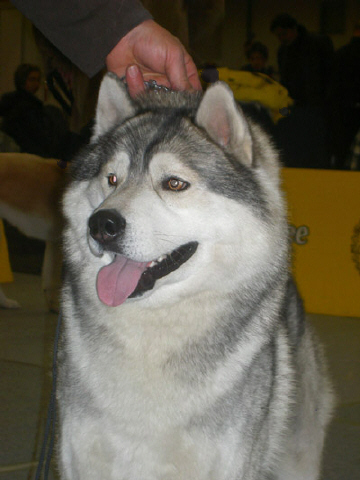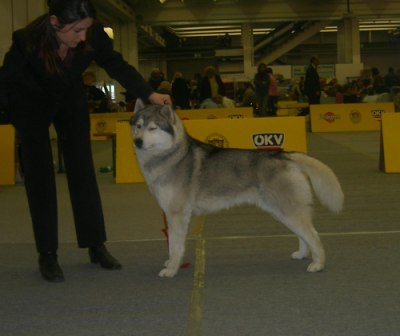 Oslo in Graz CAC CACIB is NEW Int. Ch.!!!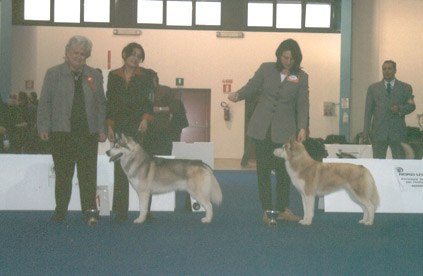 Oslo BOB Varese 2004 Judge Canalizo, finish the Italian Championship!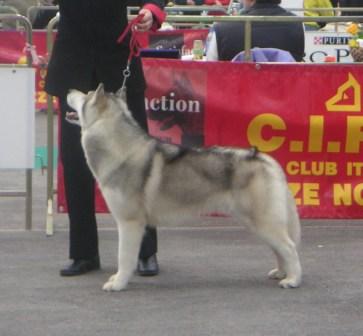 CAC al Raduno Cirn di Reggio Emilia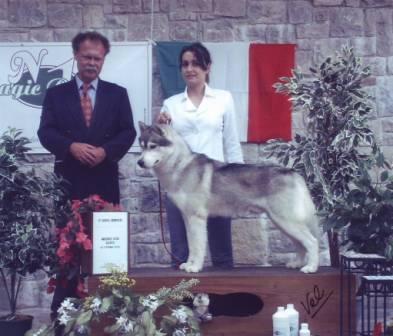 3° exc Annual Specialty se-shi 2005 judge Michael Jennings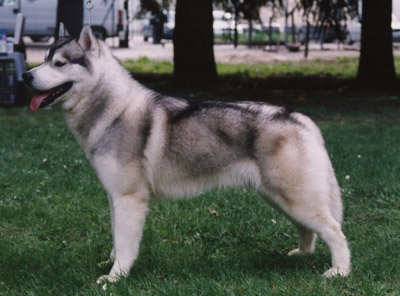 Oslo at two years of age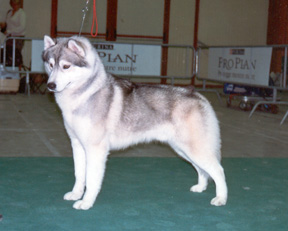 Ancona Int. CAC CACIB BOS Judge Mr. Selimovic (HR)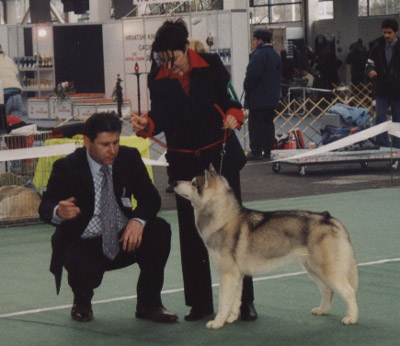 BOB Zagreb 2004 Judge Mr. Spoliaric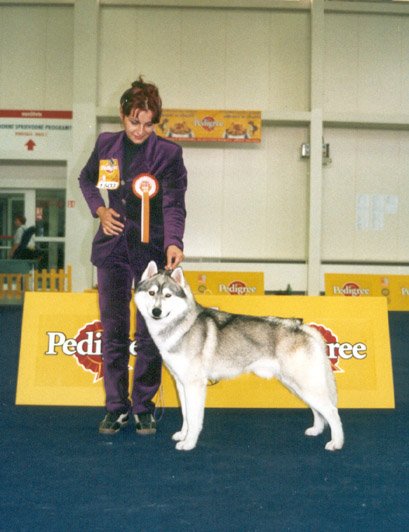 J. Ch.Eur. Bratislava 2003 Judge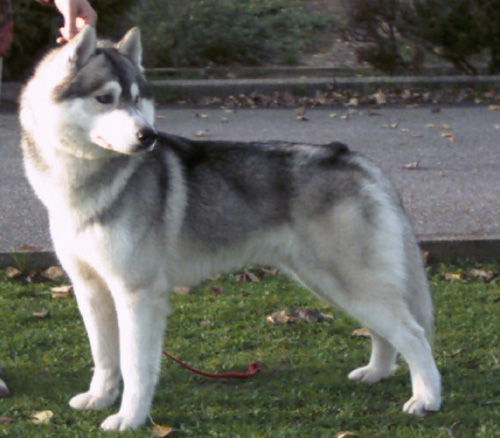 9 months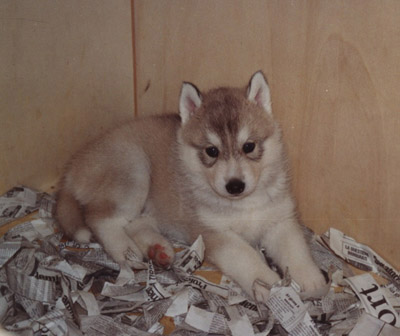 30 days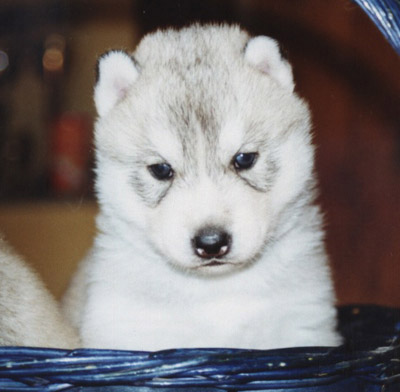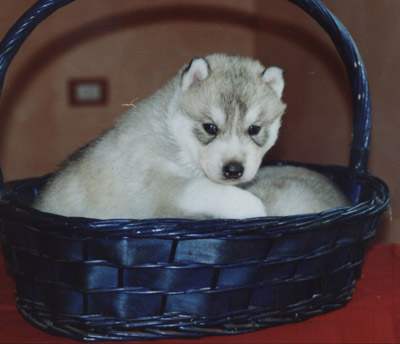 26 days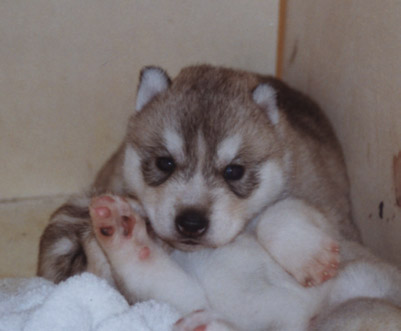 22 days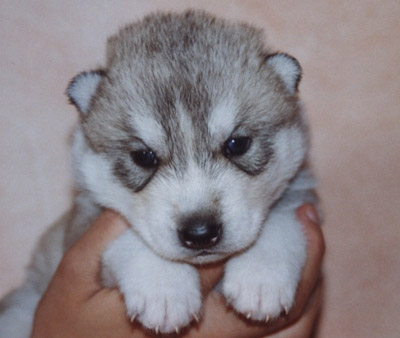 20 days
When I speak about Oslo my eyes lights up.......... By now it is a thing anybody know.
He is the first dog with my name and my first champion, all my breeding plans are contained into him, I love him so much to let smile all my friends.
Sometimes I think if he were not I did't exit from a dark period for me. Maybe he is a God's gift, arrived to full my life in the most need moment after so much time.
He borns with his brother Oscar from the hands of a most famous italian specialist veterinary. A waited litter from eight years, from which I ardently wanted a female, instead he arrived, big like a little veal, and immediately I felt he will be an important dog for me. Even if David would like kept him because he saw like I looked him, I gave him in co-owner because as idea I want not males in the kennel.
Sweetest until when he was a puppy, he is absolutely the livelyest. Beautiful like the sun with a solid and correct structure, he has a so strong and extended moviment which full the heart. He, so striking so impressive, has granted me to come back in the shows world like an hurricane, and his ascent is been so quick that it has almost stuned me, today again I cannot believe he has achieved his titles with so much facility. At 1 year he is Young European Champion, he finished the Young Italian Championship through six consecutive wins, in only ten days he achieved 3 Cacib, at 2 years he already is Italian Champion.
He take your father's class, one of the last american importations, who is breed at Madera to improve the solidity working in line-breeding on Arlington blood.
When he come to my home he is like in his home, he love play with the water, jump all the day, I smile when I see he enjoy Madera is angry, while Sheena stand his exuberance with effort. With his beautiful lively and loving character he has won anybody, all his judges have had from him a lick in the face or a feet put on the leg, all people know him as "Oslo the crazy dog" who always must be recognized in the ring.
Each time he arrive to my home he take joy , he attend his shows and then he come back to his home in Novara, to run in his big garden into the arms of his owners Andrea and Michela, who really are special people, if he is so happy the most of the merit is them and I always will thank them for the friendship and the trust they have showed me.
Offspring:
da Ch Torquemada's Talking About Her
Ch Torquemada's Aleutian Breeze
da Ch. Torquemada's Quickly to the Top
Ch. Torquemada's Quickly to the Top
da Winalmik's Love Me For A Reason
Winalmik's Idealy Six Blades Deep
PEDIGREE
Oslo

Ch. Usa Int. It. Slo. Ripr. Arlington's Back To You

Ch. Usa Rockland's Starr Attraction

Ch.Usa Marionhill's Starr Player

Sno Sky Tru Blue Starr

Ch.Usa Miortok Arlington Ki's Anore

Ch.Usa/Can Arlington's Where There Smoke

Ch.Usa Ice MNT Intrepid Traveler

Madera Sunset Ice Chrystal

Stelle A Nord The Ultimate Warrior

Ch.It.Int.Austr. Ripr. Karnovanda's Kenai

Arlington's MSs Dolly Parton

Alijaska The Northern Stars

Ch. Usa Ripr. Arlington's Firekrakr

Stelle A Nord Ascot Aissa
© 2008 Torquemadasiberians.com. All Rights Reserved