Who I am....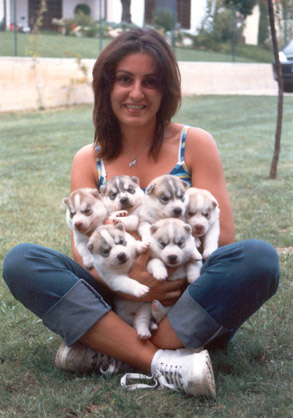 Talking about my kennel is just like talking about my life. I've yet done it sometimes in special way in moments when I was signed by the past, and now I'd like to do it again leaving bad moments apart and only telling how Siberians cames in my life…
My love for animals is something that signed me since I was child, it was my hiding place from my distrust to humans, for all the people I was the lonely child speaking to animals, a little reserved a little daydreamer… I grow up in a problematic family, four childs and many problems, my parents was all time arguing so I kept my self away; I was intrigued in books, natural science and from the emotional relation I was able to live with nature, a world apart in my mind confided in the course of time to just a few of people, stories of forests and wolves, stories of migratory birds and remote lands, stories of tree houses, mountains…By a few of money I gained making some taylor works, while I still was a child, I bought birds and then back from school I stand for a long time watching them, breeding them, feeding them and then noting down their behaviours. Then in an afternoon I watched a movies that changed my life: "The Call of Wild", that was love at first sight for sled dogs, for the devotion to their sacrificing work beside humans, for that sweetness united with the wild nature transpiring from their eyes.
Before to make real a so great dream as to live with these wonderful animals many years are gone, I've searched out informations by any small means in my hands and a day I've met on my way some friends sharing the same things I was loving. One of them in particular has been a big friend and she still is: Michela of Winalmik Kennel. She's yet today my ideas and dogs mate. Later I grow up me too and with many sacrifices and some compromises my beloved Sheena (Alijaska de Northern Stars) from "Stelle a Nord" kennel, entered in my life. With Sheena I lived unforgettable moments playing the musher with his work dog, unbridled runs on my bike screaming commands perfectly learned by her (commands that sure will make Luca laughing..). And maybe someone still remember a crazy girl with her harnessed siberian going far from home sometimes finding herself under a storm flying in the face of nature in a perfect symbiosis with his all fours friend.
Many dogs arrived after her, some sons of her and others from a totally different breed: dobermanns, a breed that I started loving knowing a great breeder: Massimo Santini of "Diamante Nero" kennel. He teached me breeding devotion, perseverance and an endless deep love to dogs. That were beautiful years, completely dedicated to dogs and breeding that left in me unforgettable memories. I've continued my way with siberians and him with his dogs but dobermanns now are part of my life as faithful friends protecting me and as dogs that give me great satisfaction in work.
Passion for my breed brought me to take the ENCI official name in 1997 after to has been in wait for a long time, even if only I could have my first litter in 2002. In these years till today I tried to learn what I considered right to get the best breed selection about conformation, work and to prevent acknowledged genetic diseases. Since five years ago I'm a council member of the Siberian Husky's breed section in our Northern Breeds Italian Club and I'm attending the new degree course at the Medicine and Veterinary school at Pisa university "Breeding Techniques for pure breed dogs and Cynophilist Education". Arriving to make my kennel and arriving to make all I am doing for love of dogs it was a great joy for me, above all because it was a lot under each points of sight, and the arrival of this web site now, just after I came back from my first travel in the United States for seeing the American National Specialty for the breed, it no can have other means as, even if all the street is in slope, the sacrifices done with the heart always win.
I choosed to breed siberians because together I always feel integral part of the nature, just like I ever wanted when I was child, away from humans, cement and from misunderstanding, and in their eyes I can see packs of wolves moving light on white snow, in this image hided quiet in my mind there are not artificial rumors in the air and no grim sentiment waft around, everything moves by an ancient and unchanged rhythm. This is my peace in the heart that allow me to get back serenity everytime I feel myself stroke by the insincere humans world….
December 2004
© 2008 Torquemadasiberians.com. All Rights Reserved